Past Productions
Agatha Christie's The Unexpected Guest
Directed by Mikaela Kafka
April 13 – 22, 2018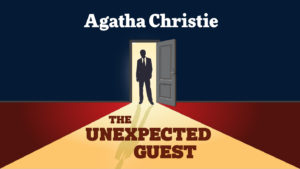 A Beautiful Woman, a Dead Body and a Gun –
Classic Agatha Christie!
The Players Theatre
115 MacDougal Street – NYC
"The impact is tremendous… Just when the murder seems solved … Miss Christie pulls her almighty knock out punch. I admit her complete victory." – London Evening Standard
Lost in the fog, a stranger seeks refuge in a nearby house only to find a man shot dead and his wife standing over him with a smoking gun. But the woman's dazed confession is anything but convincing and the unexpected guest decides to help. Remarkably, the police clues point to a man who died two years previously but as the ghosts of a past wrong begin to emerge, a tangled web of lies reveals family secrets and chilling motives, where the real murderer turns out to be the greatest mystery of all.
CAST
Dan Moldovan as Michael Starkwedder
Anna Gion as Laura Warwick
Eric Fletcher as Inspector Thomas
Richard Lisenby as Sergeant Cadwallader
Jack Flatley as Jan Warwick
Brenda Bell as Miss Benet
Sue-Ellen Mandell as Mrs. Warwick
Joseph Raik as Angell
John Dillon as Julian Farrar
CREATIVE TEAM
Mikaela Kafka (Director)
Elizabeth Hathaway Emond (Production Stage Manager)
Courtney Hansen (Costumer)
Ali Hall (Lighting Design)
Elizabeth Chaney (Set Design)
Emma Ruopp (Production Manager / Sound Design)
Christian Clarke (Set Construction)
Emily Czudak (Assistant Costumer)
Victory Theatrical (Marketing)
Jack Mansager (Graphic Design)
---